The brand new line of Elite Falcon Opto & SBEC ESCs target mainly professionals and pilots looking for uncompromising precision and quality. The Elite Falcon ESCs combine new revolutionary design, system upgradability, almost unlimited flexibility with state of the art telemetry capabilities.

The Falcon product line represents advanced speed controllers for exclusive use in airplanes, drones, sailplanes or any kind of radio control application. With integrated telemetry and various possibilities of optional user configuration, the controllers offer high efficiency, low weight and precise motor control. The telemetry system in the Elite Falcon ESC lets you monitor in real time the Amperage (Amp), Voltage (V), and Capacity (mAh) consumed from the battery, ESC even calculates Power (W) output of the system.

Specifications and Features
– Supported Protocol: Spektrum SRXL2
– Over and under-voltage protection, overtemperature protection, motor-stall protection
– True High Power switching BEC 15A Continuous/30A 2s Burst
– Fully integrated receiver battery backup with LiPo or LiFe preselect
– Real-time telemetry data stream and min/max value data logging
– Configurable current limiter, safety shutdown when the throttle impulse is lost
– Configurable acceleration, timing, electromagnetic brake, prop positioning
– Firmware updates via USB interface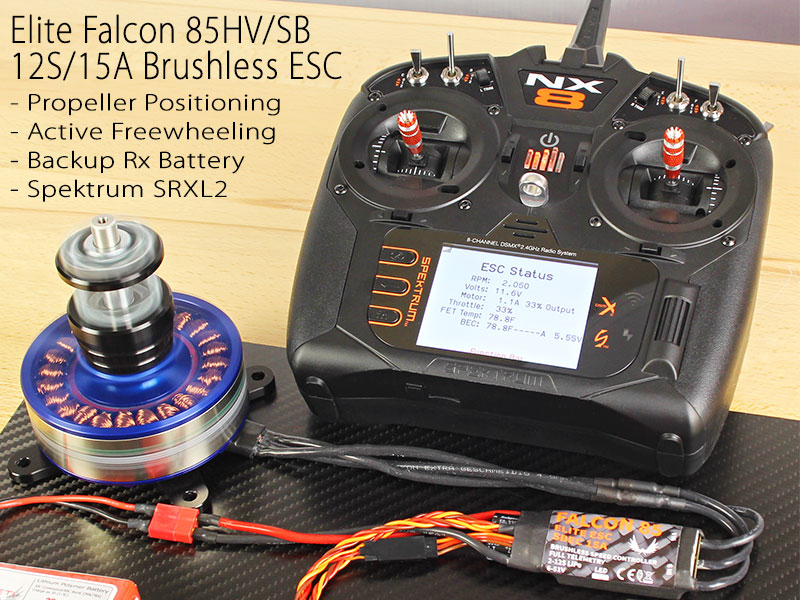 Live Telemetry with Battery Capacity (mAh) Monitoring for Any Type/Brand of Batteries (No SMART Battery Needed)!!!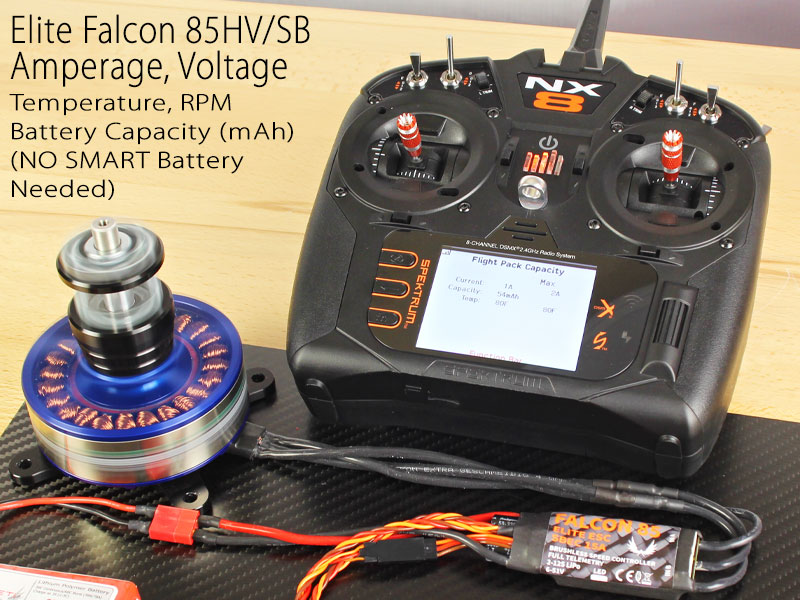 Realtime, Wireless Transmitter Throttle Stick ESC Programming for Any Application and Type/Brand of Brushless Motors (Hi/Low Pole, Inrunners/Outrunners)!!!