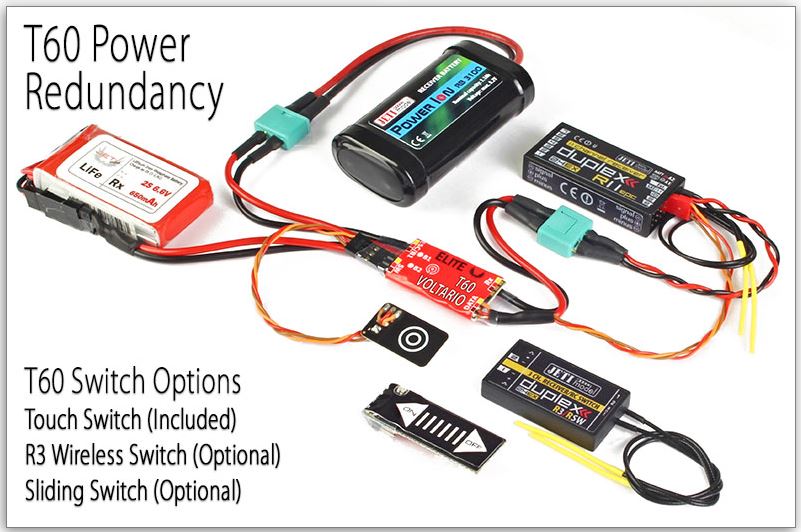 The Voltario T60 is a high performance digital dual redundant battery switch with advanced telemetry features and touch switch functionality. It combines a backup battery charging circuit and telemetry with Touch w/LED (Included), optional Sliding, Wireless (R3/RSW) or mechanical switch functionality in a single device.

The T60 is ideal for mid-size models where high-voltage servos are used without voltage stabilization. It provides telemetry and monitors Voltage/V, Capacity/mAh, and Current/A (Dual Rx Batteries, or BEC w/Backup Battery) of both power inputs.
Voltario T60 is suitable for models equipped either with dual receiver batteries, or with ESC battery eliminator circuit (BEC) used as a primary power source, combined with a small backup battery. The device prefers its primary battery input, while in case of voltage drop it automatically switches to the secondary input. The charging circuit may be optionally enabled to charge the secondary backup battery from the primary input/BEC.
If using with R3/RSW Wireless Switch you have to change setting of the Voltario T60 from "Touch" to "Standard" setting. For long term storage backup battery has to be disconnected due to constant load of the R3/RSW Wireless Switch.
Voltario T60 is designed to turn ON/OFF the electronics in your model, it can replace a mechanical switch as well. The device remembers its last operating state, and if the battery is accidentally disconnected, the Voltario will automatically boot up again as soon as the battery is connected again.
Get yours, HERE!