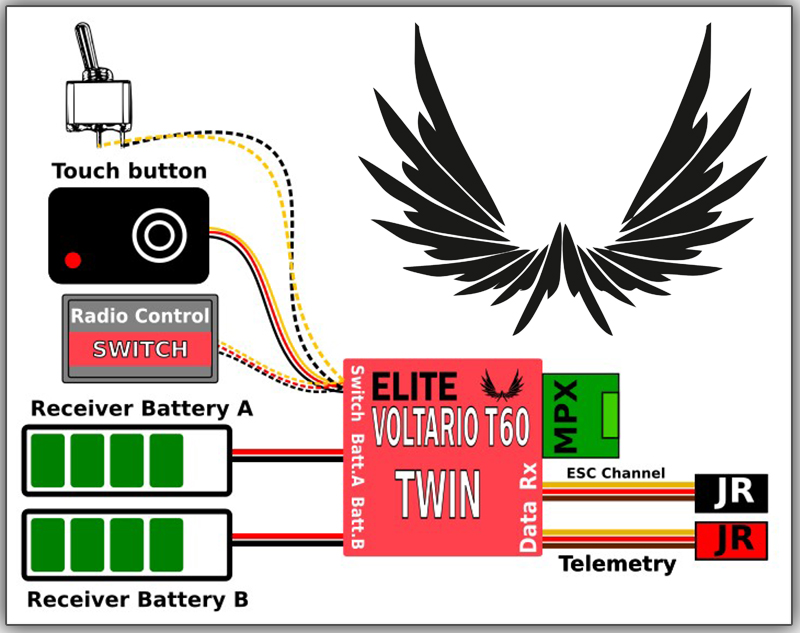 ❗ ATTENTION ALL LOVERS OF RC! ❗
We want to hear from YOU about the exciting new addition to the Jeti Family.
The Voltario Twin T60!
Some of it's features include:
Power: In 2x Silicone Wire 15 AWG = (1.5 mm2) / Power Out Multiplex MPX Connector Current: 2x 10A Continues/30A Peak (20A/60A Combined) Jeti Telemetry: Voltage/Amp/Capacity (mAh) for both Battery Packs
Features: ESC Pass through signal if your ESC with BEC used as primary power source. Touch Switch (Included), Wireless or Mechanical Switch as ON/OFF options.
Battery Switch-Over Options (w/Telemetry Alarm): 1) Automatic, uses battery with higher voltage (Both Batteries are being Discharged) 2) Manual, pick primary power Input (Recommended for ESC w/BEC and Backup Rx Battery)
So, would the Voltario Twin improve your flying game? Let us know what you'd like to see added or subtracted and if this is something you'd be interested in please tell us! Many happy landings.