Back to Where it Started!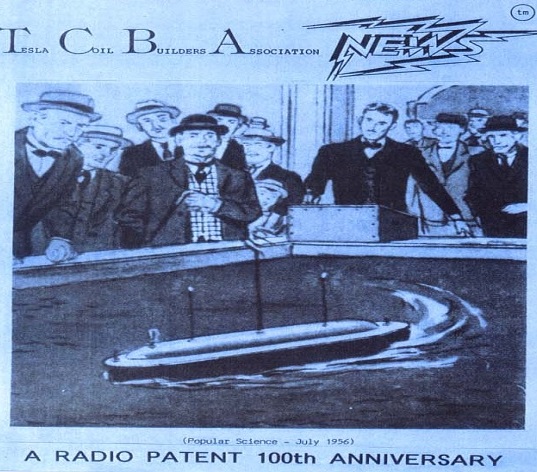 Technology is constantly changing, and the RC Industry is no exception to that. With products that need programing, sensors for every possible thing imaginable, "an app for that", multiple frequencies, constantly improving product specs, and transmitters that might-as-well be mini computers, it is understandable that a new RC pilot may become overwhelmed with information. No worries though, follow our flight school segments to learn the basics of RC.
In this segment, we will learn the history behind Remote Control Flying. In 1897 Nikola Tesla discovered the use of radio signal as a way to control things wirelessly. He successfully sent a wireless transmission from his laboratory to a boat on the Hudson River – a distance of about twenty-five miles (Tandon, 2021). People did not believe his discovery, so he later demonstrated it publicly by wirelessly controlling a boat in a pool in Madison Square Gardens (Hunt, 2023). The first RC boat was controlled by using radio waves to direct its movements through an antenna on the boat (Tandon,2021).
Fast forward to the mid 1930s. During this time there were several influential people that made important contributions to RC Flight. One important set of men are the Good brothers – Walt and Bill. These twin brothers, with backgrounds in ham radios, built the first radio controlled airplane in 1937, known as the Big Guff (Pete, 2023). Being able to control the planes trough radio was a giant step forward in the modeling era. 
Ross Hull and Clinton DeSoto, both heavily involved in ham radios, are another two of the early RC pioneers. Together, they built and flew RC gliders in the first public demonstration (Gudaitis, 2015). By the end of the 1930's their sailplanes had over 100 flights total. Unfortunately, Hull passed away in 1939 and Desoto passed away in 1949.  
Leo Weiss, a young engineering student, built a fourteen foot wingspan RC model and together with Jon Lopus they had created the reed-control system, basically an eight channel system (Gudaitis, 2015; Noll, 2018). The reed-control system used "six tuned reeds that responded to audio tones" (Gudaitis,2015), and became more popular in the 1950s. 
An electronic technician named Joseph Raspante is another revered pioneer of RC. He built an RC system that "used a telephone dial to select control functions" (Gudaitis, 2015).
In 1939 Howard McEntee published details for a twin-frequency transmitter and by 1941 Thracy Petrides and Leon Hilman had published a multifunction, single channel, RC system (Noll, 2018). 
By the 1950's FCC was granting permissions to the RC Modeling community and transmitters began selling to the public. Since then, equipment and the radio control hobby has only continued to grow and evolve!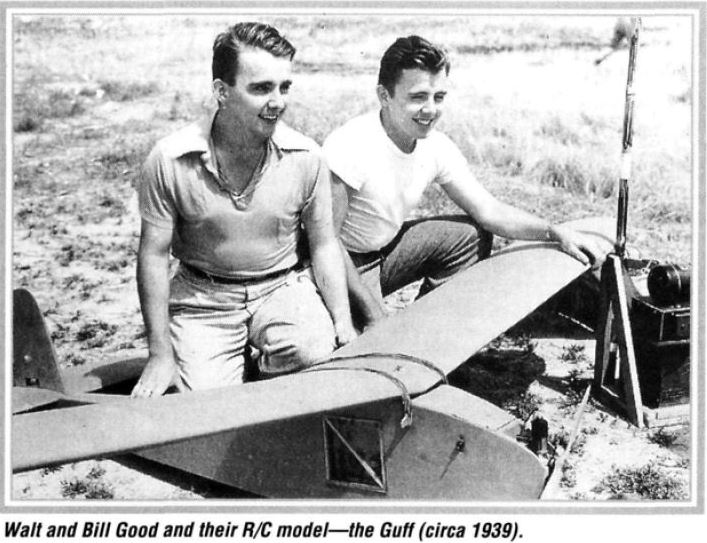 Sources:
"Radio Control" Academy of Model Aeronautics. (February 15th, 2023) URL https://www.modelaircraft.org/radio-control#:~:text=The%20first%20truly%20successful%20Radio,brothers%20to%20fly%20the%20Guff.
"The History of Radio Control" Noll, Bob. Model Aviation. (August, 20108) URL https://www.modelaviation.com/history-of-rc
"The First Days of Radio Control" Gudaitis, Frank. Model Airplane News. (July 28th, 2015) URL https://www.modelairplanenews.com/the-first-days-of-rc/
"Nikola Tesla: Father of Robotics" Tandon, Tulika. Jargon Josh. (July 9th, 2021) URL https://www.jagranjosh.com/general-knowledge/nikola-tesla-birth-career-inventions-family-death-complete-biography-1625744423-1 
"Nikola Tesla" Hunt, Inez Whitaker. Encyclopedia Britannica. (January 3rd, 2023). URL https://www.britannica.com/biography/Nikola-Tesla 
"Aeromodelling History" Pete. RC Plane World. (February 15th, 2023) URL