Multiplex Connectors w/Solder Couplers are great for any project!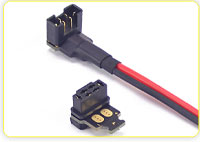 Our solder coupler sets provide a larger area for solder contact than soldering directly to the connector pins. They also provide strain relief for your power leads (or servo leads) at the connector. With the servo leads, you can easily connect up to four independent signal servo wires. If space is an issue, consider using the vertical solder couplers! Vertical solder couplers are a great addition to the straight power solder couplers for multiple connection.
Best part – they are easy to install! Check them out here!